"It'd be so damn easy if I had found you in a glass, I'd be cursing your hangover instead of craving one more drag".  
I sit at my desk makeup-less, with my ugly google glasses on (the ones I bought online for cheap to replace the second set of glasses I stepped on this year). I'm looking out my window at a skyscraper waiting for the sun to descend and reflect into my eyes from the multiple stories of glass windows. I consciously exhale and let my shoulders drop repeating to myself "surrender".  
I giggled as I wrote this months title, as I slept for 3 hours waking up constantly with respiratory issues, coughing up mucus, barking like a dog and howling at the moon for my 6th dose of sinus and loss of voice problems since early December. I'm worn out from fighting this thing, I'm worn out from being held back from this thing. But yet again, I remind myself "You can panic and splash about in the depths gasping for air, or you can relax and ride the tide till it brings you to the shore". Once again I exhale "surender".  
Smoke! The stuff that clouds your vision, the stuff that disappears, the stuff that takes your breath away, the stuff that can't be held, the stuff that isn't really there. My drive and ambition to achieve is my motivator to wake up in the morning. I love to reach for that cloud of smoke in hopes it will manifest into something I can grasp. I'm a dreamer, I want to create something from nothing and on days like this when I wake up and am forced to rest, like smoke I realise what I'm reaching for doesn't actually exist, but I'm addicted to it so tomorrow I'll wake up and run towards the illusion once again.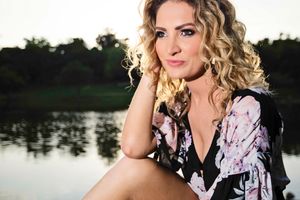 Apart from waking up sick with no voice, this month has been an incredible month. Making time for a life of my own has been a really important factor. I'm back exercising and feel more energized and motivated than ever. I've created some really incredible songs that I'm so proud of. I've been working on my recording skills and am feeling so much gratitude for the sunshine and warmer weather to bless the colourful streets of Nashville. I'm working on some really cool products and trying to bring more of myself to the people who I get to be so fortunate enough to share this journey with.  
Last month I released a song called "Come Back" as a part of the demo sessions. Here is a little blurb I wrote about it: 
I feel like for the last few years I've been pretty in tune with my own true north. The spiritual compass that guides me to fill my heart with what it needs. I knew I needed Nashville. 
I wrote this song about meeting someone just before moving to the USA! 
He said to me "All you have to do is come back". At the time it felt like a double-edged sword and like God was being so unkind to fulfilling a lifelong dream and making it so bittersweet. 
I knew if I went back I would give an incomplete version of myself to someone. Thankfully, I had already lived that lesson and already knew that outcome. 
So instead my process of letting go and wishing him well began in the writing room. "Come Back" came to life with the help of Mary Kutter. 
Smoke is the next part of that story. I remember every element of my life had changed. I was so scared beginning this new journey over the other side of the world. I found myself not ready to let go of the emotional security my ex-gave me, he became my lifeline. We would walk our days while the other one was sleeping to exchange words of encouragement and hope over the phone half a world away. 
I've always surrounded myself with "brother" figures.  I have a lot of men in my life that look out for me and keep me safe and give me that emotional support, not that I need it often. I think knowing that someone is there is all I need to fulfil that need in me.  
In the past, I've been so blessed to transition from dating someone to a sibling friendship when the relationship dissolved, I do sibling relationships better than the romantic ones. I believe that if someone leaves a mark on my heart, they are engrained in it forever. I want to push hurt aside and be each other's cheer squad (but I'm weird like that).  
This relationship was different, we both knew we needed to cut that rope. We no longer were allowing each other to grow, instead, we were stagnant. Reflecting on what our relationship had become since moving to the USA the song "Smoke" was created with the help of Jake Anderson. 
Through resentment we both had challenging times to sustain a friendship or a kind hand of support. It was a hard relationship to keep. Now everything is water under the bridge, I have so much respect for my ex, we both went through a heartbreaking time together and he helped me as best he could through one of the hardest transitions of my life. 
Smoke is now available on iTunes, Apple Music and Spotify or you can purchase a direct download from my store page. Please remember it means the world to me for you to spin my song on Spotify, add me to playlists, share and with friends.
Having a moment when my hands are tied with no voice I realized I have so, so many people who are out there watching me, believing in me and cheering me on, on those hard days. Gosh I have some of the best friends, you really mean the world. 
Please don't forget to sign up to my mailing list on my home page to receive a free song.... it's one of my favorite songs too. 
From the bottom of my heart, I love you.